Just 20 minutes outside of Seattle, the Sullivan family lives a simple and fulfilling life out of a very unusual home. That's because their home happens to be a 1996 Blue Bird school bus.
Brian and Starla Sullivan were tired of spending an exorbitant amount of money on rent and wanted to figure out another way of life. So, they bought the school bus at a nearby dealership for $2,800 and spent $25,000 to renovate it and transform it into a home. The end result is incredible.
Endearingly named Big Bertha, the school bus became the new home for Brian, Starla, and their three children. It is registered as an RV, so, the family can drive it without the need for a special license.
Brian works in aerospace manufacturing and, along with his creative wife, helped design the layout of the 40-foot-long bus. They wanted to create a way of life that allowed them to spend quality time with their children, Charlie, Henry, and Lincoln.
Stepping onto the bus, you enter the Sullivan's 'entryway' which they use as a 'mud room' to store wet and dirty shoes.
The driver's seat/entryway is separated from the rest of the living space by a solid door. A small desk provides a workspace for the couple as well.
Continuing past the entryway, you'll enter the main corridor of the home. This space is used as the living room, kitchen, dining room, and storage.
Underneath the two benches in the seating area, there is hidden storage. The benches also have extensions which transform them into a full-sized bed for visitors.
The family loves making home-cooked meals, so it was important for them to have a large, fully-functioning kitchen.

The kitchen features large countertops, fridge, and combo oven-microwave-toaster. The family also has a portable stovetop that is stored away when not in use. The Sullivans made sure to have plenty of drawers for storage.
;
Past the kitchen is the family's bathroom. There is a composting toilet, a tub and shower combo made from a horse trough, and a high-efficiency washing machine.

"We have learned to hang laundry on pretty much every surface in the bus since we do not have a dryer; everything air-dries," Brian told Treehugger.

Making sure their three boys had a place to sleep and play, the Sullivans designed bunk beds with a ladder and small window. A third bunk is used as their 'playroom' with toys stored underneath.
Advertisement
All of the beds are full-length at 7-feet long, they wanted to make sure that the beds would still be functional as the children grow.
In the very rear of the bus is Brian and Starla's sleeping space. Their bed also has drawers underneath for clothing storage.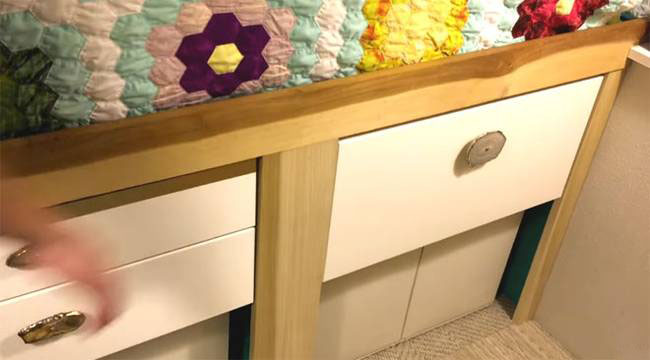 "Freedom. Freedom with our money, our time and our location…The most important thing in life is people, and spending the most time with our family and children was a huge priority. We were not about to sacrifice our family time to work multiple jobs, paying for a lifestyle we didn't want…Less space, less stuff, less time cleaning, less stress. More time to enjoy life and our children," Brian said.
The Sullivans love and embrace their untraditional way of life. They believe it will help raise more independent children. Learn more about their story and watch the full tour of their mobile school bus home below.
Please Abrozzi this with your friends and family.